A Letter to Students – Band Camp, Part 1
The Dot System
Watch closely…here it is. Here is the conception of ensemble visual clarity that gave birth to what has been called "the dot system." Witness below the execution of this drill learning method at its highest level:
*disclaimer to those of you for whom that may not have been your first time watching DCI; there are many excellent corps. Many amazing programs are brought to unbelievable levels of performance by many corps every year. The Cavaliers is used as an example of the pinnacle of visual performance not only because score wise they tend to rank there but rather because the method of learning and cleaning drill that we will used is a product of what the Cavaliers invented. The author does not mean to bring any subjective evaluations of drum corps to the discussion.
Can you achieve that level of ensemble clarity (or clean drill) in the marching band? Well let me get philosophical on you for one second. I recognize the difference in setting and circumstance between a high school group and a drum corps. What is attainable by a high school and what would eventually lead to pristine clarity in the drill is this concept; the fundamental concept of the dot system philosophy.
This is the universe: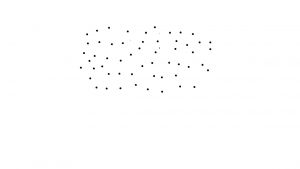 You see, each dot is extremely important as an individual and as a part of the whole. Imagine all of you represent one dot. The fabric of the illustration, the balance and meaning of the illustration would be altered if any one of the dots were removed. Each dot is essential to the whole. The whole needs the dots. If one dot were to decide to not contribute then there would be a gap. You see, the dot system is about the recognition of the importance of giving. You all have duties and roles that you will play in the grand scheme of things. I'm talking about the drill, band, life, and the universe. Without your contributions the world would be less complete; your dot would be absent. Therefore the drill process of the dot system is really about understanding that all of you have an important role and responsibility to the entire rest of the band or universe (if you want to take it that far). Fulfill those goals and you will be connecting to a construct of life that pervades all and eludes many. Commitment to your dot (both literally and metaphorically) is the pathway for a successful band program.
Whoa that was a lot of double entendres. But yes, it is that deep.